(Izmit, Turkey)

Saudade


Saudade (performance + videos), May 2018



Saudade (book), May 2018, 8.5 in W x 5.5 in H




During my residency at I:O, Helikon Art Center's Art Residence for international artists, I created the group performance and research collaboration, Saudade. In exploring the roles of language and translation in identity, an immersive event provided attendees of the exhibition opening at Kedi Gallery in Izmit, Turkey a opportunity to reflect on verbally delivered text and song.



Saudade (video still), May 2018
The experiment began with my interview-based research and included a collaborative event with other artists-in-residence: vocals by Mercedes Aqui, poetry reading by Cyriaco Lopes, Thai-to-English translation research with Sikarnt Skoolisariyaporn and live English-to-Turkish translation by Alp Aslan.

The piece exposed viewers to three separate deliveries of the same text, "Estranha Forma de Vida," a song originally sung in Portuguese by Amália Rodrigues, and delivered in this piece via an oral reading, a cappella vocals and a book I wrote with text, video screenshots and Google Translate.

I led a viewer discussion after the event to explore human experience and expression as translation accelerators.

The book is jumbled and out of order, requiring further translation behind the rules of language. The song includes one of six untranslatable Portuguese terms, Saudade. The word means a type of nostalgia for something that has never happened. Lopes, a translator of Portuguese poetry and literature, attempted to translate the word by saying, it is "just like joy, but the opposite."

One text, two voices, many assumptions.
Although the poet in the performance read the same text that the vocalist was singing, viewers thought that two different texts were being delivered.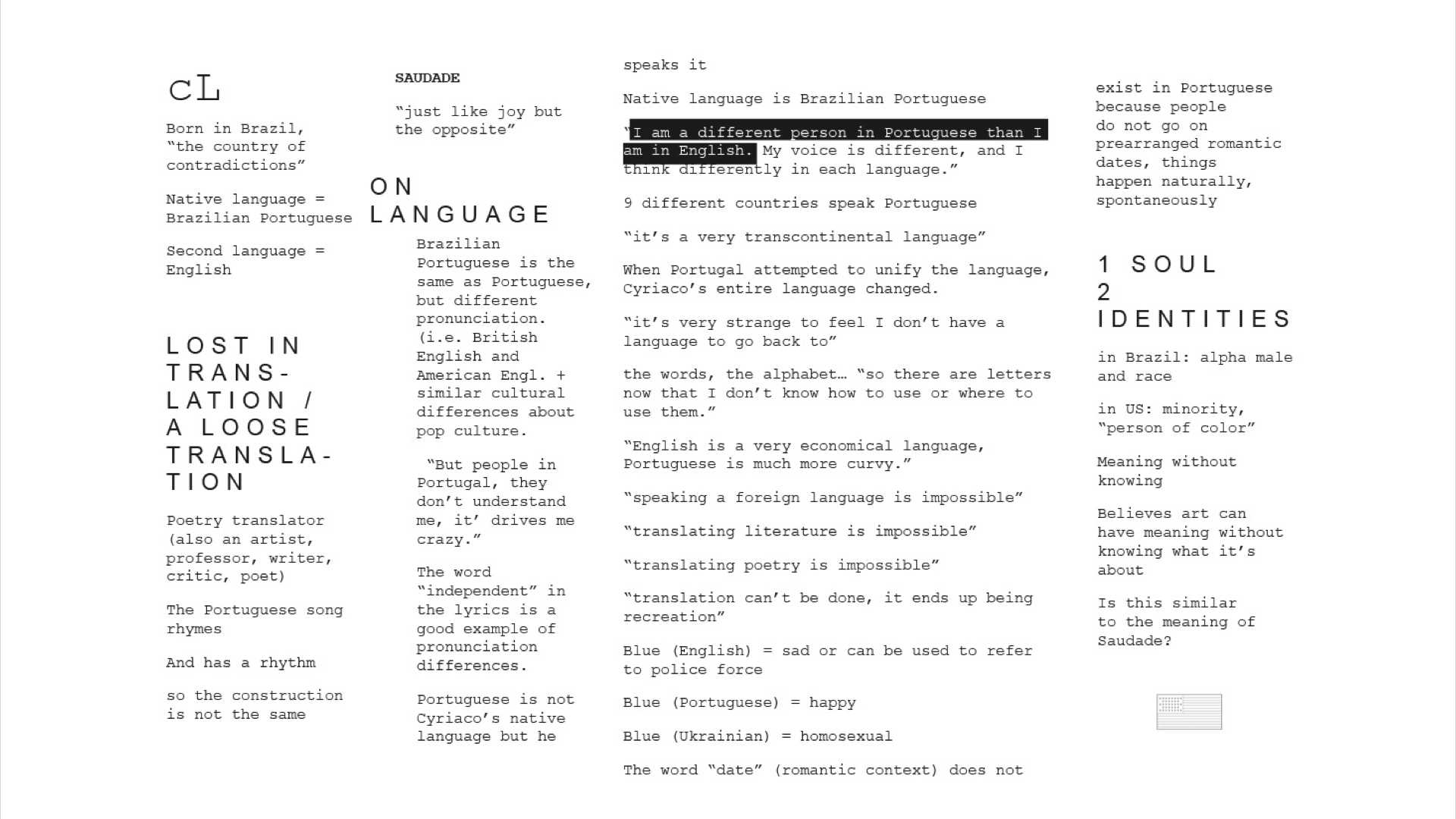 Saudade (book page), May 2018